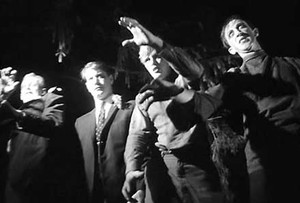 Il faudra bien un jour reconnaître que les plus grands films politiques sont des films d'horreur. Je me souviens de mon enthousiasme lors de ma première vision de Night of the Living Dead, et de cette audace politique qui saute aux yeux, d'autant plus fort qu'elle est amenée par des images-chocs, frontales, gores. Eh bien, le film n'a absolument rien perdu de cette audace. C'est extraordinairement courageux, engagé, rebelle, en même temps que spectaculaire.
Côté spectacle, c'est le pied total. Si les acteurs sont absolument nuls (avec quand même une palme pour cette blonde devenue folle, ridicule et hilarante), Romero arrive à les faire oublier par une mise en scène très violente, même et surtout dans sa grande lenteur. Les zombies attaquent sans brusquerie, sûrs de leur but (manger la tête des gens). Du coup, le film est assez effrayant, alors qu'il pourrait être ridicule (c'est fait avec 3 dollars, et les morts-vivants sont assez poilants, il y en a un qui ressemble à Raffarin). La lumière, toute en surexpositions et en contrastes au taquet, ajoute à cette violence sourde. Certes, le son est tout pourri, comme la musique, mais ces défauts techniques de débutant sont toujours oubliés devant la maîtrise formelle, et la conviction de Romero concernant son esthétique. Du débu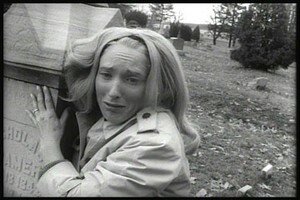 t à la fin, le film est très homogène esthétiquement. Les (rares) occurences gores arrivent à point nommé pour doper l'action : la petite fille zombie reste en tête (elle assasine sa môman avec une sorte de truelle, c'est pas sain) uniquement par la façon du gars de l'éclairer et de la faire bouger. La lenteur, je me répète, fait merveille, notamment dans les premières scènes où un mort vivant (Guy Lux, mais plus grand) passe de l'arrière-plan au premier plan en prenant tout son temps. Carpenter a dû voir le film avant de travailler son Halloween. Il y a, il faut le reconnaître, une petite longueur à la moitié, sur les longs affairements des héros pour se barricader. Mais peu importe.
Côté fond, là aussi, c'est énorme. Tout le film est construit sur une optique très cohérente : et si des "corps étrangers" envahissaient le cocon ricain traditionnel ? La maison où s'enferme le groupe d'humains apparaît vite fait comme une métaphore de l'Amérique, où le héros principal, un Noir, doit défendre une cellule menacée (la famille, l'américain moyen, la blonde fragile). Au-dehors, les exclus (on est en 68) tentent de faire leur place,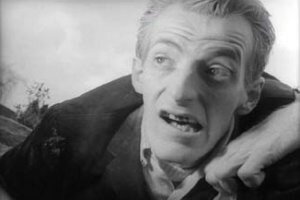 de s'inclure (certes, leurs méthodes sont brutales). L'ironie vient du fait que la milice rurale (superbe sheriff à moustaches) rôde en troisième couche, et veille à ce que l'ordre règne TOTALEMENT. D'où les derniers plans, d'une sauvagerie hallucinante, où Romero convoque les images du Ku-Klux Klan pour faire de son film le brûlot qu'il voulait. A l'intérieur de la maison, les personnages représentent tous une partie de l'Amérique (ou de la société en général), et se font tour à tour ingurgiter par le virus étranger. Ajoutez à cela des messages très clairs sur le nucléaire et ses dangers, qui ouvrent le film sur la mutation génétique, et la vengeance des minorités soumises aux répercussions guerrières, et vous avez un truc extraordinairement courageux et anarchiste. Je voudrais pas balancer, mais ce film est dangereusement de gauche.