Un vrai plaisir de revoir cet exercice de style brillant et astucieux sorti l'an dernier. The Descent, tout en
étant un film d'horreur très respectueux de ses aînés, apporte pas mal de nouvelles choses au genre, avec modestie et imagination. Marshall semble bien avoir compris l'importance de la suggestion dans le cinéma fantastique, il a potassé son Tourneur. D'accord, c'est peut-être pour masquer le manque évident de moyens en ce qui concerne ses monstres verdâtres, particulièrement cheaps, mais pourquoi pas ? Compenser un petit budget par de l'imagination, au contraire, ça force le respect. Donc, le pépère plonge ses héroïnes dans une grotte labyrinthique et particulièrement sombre, et du coup la plus grande partie des plans est très obscure, avec juste le centre de l'écran qui est éclairé par les lampes de ces dames. Bon, moi, c'est vrai, la chose qui me fait le plus peur après les serpents, c'est la spéléo (et les films de Lelouch, mais passons). Il m'en faut peu. N'empêche que ça fonctionne très bien, la claustrophobie y est, et aussi la peur gamine du noir. Du coup le film est très effrayant, tendu comme un arc.
Mais Marshall va plus loin que cette ficelle déjà habile. Son imagination ne retombe jamais, et la variété des situations atroces dans ce lieu fermé est stupéfiante. Il relance sans arrêt son suspense, va de plus en plus loin dans l'horreur. Si son goût pour le gore pur est très rigolo, ce n'est pas dans ces moments-là qu'il terrorise le plus le pauvre spectateur, mais dans une tension constante, et dans une surprise toujours renouvelée. On ne sait jamais d'où arrivera le prochain danger, et on regarde bouche bée. Chapeau. Ajoutons que les scènes d'action pure sont très bien tenues, avec l'habituelle suite de plans très courts, mais qui cette fois ne perd jamais le spectateur.
Enfin, l'aspect psychologique de The Descent est lui aussi très réussi. Si les actrices sont parfois un peu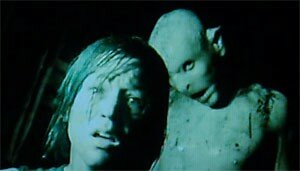 pénibles, Marshall réussit à rendre leurs personnages crédibles. La situation initiale de l'héroïne (elle a perdu sa fille dans un accident) irradie tout le film, jusqu'à cette fin bluffante que je ne dévoilerai pas. Grâce à cette finesse d'écriture, la dernière partie est très émouvante et profonde, on a l'impression que Marshall est peut-être le premier cinéaste américain à avoir lu Dante. Bref, ça fait peur, c'est intelligent, c'est émouvant et haletant, et ça ne prend pas le public pour un ramassis de teenagers avachis. Que demande le peuple avide de gore ?