Pas de bol : je veux voir un vieux Michael Mann en préambule de Miami Vice, histoire de me mettre dans le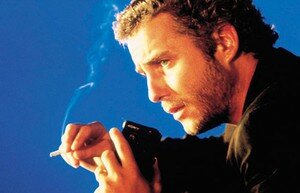 bain, et je tombe... sur le retour de William Petersen, acteur qui m'avait semblé être un crachat à la face des autres acteurs dans To Live and die in L.A. de Friedkin (fais-toi du mal , clique). Je m'apprête donc à sortir cette fois-ci une batte de base-ball pour vraiment mettre ma menace à éxecution, à savoir lui pêter une jambe, et puis... force m'est de reconnaître que, dirigé par Mann, ce type tient la route. Il est très bien, sombre, secret, sobre, et son personnage, bien que classique, est assez joli de mélancolie et de solitude. Je ne lui pêterai donc qu'un doigt.
Manhunter est plutôt réussi, c'est même une très agréable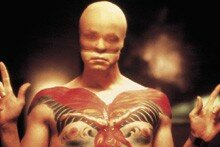 surprise (c'est ce que je dis toujours des films de Mann). Comme d'habitude, le scénario n'a aucun intérêt : c'est la traque classique du flic et du serial-killer, avec son lot de rituels sordides, de fausses pistes et de chat et souris. De ce côté-là, c'est du déjà vu 45000 fois, peu importe. Non, ce qui compte, une fois de plus, c'est la véritable modernité de la mise en scène de Mann sur ces schémas hollywoodiens sur-traités. Le gars sait filmer la ville comme personne : son filmage est ample, très doux, suivant les rues, les architectures modernes avec beaucoup de grâce. Ses lumières très
soignées, blanches, grises, bleues, épousent parfaitement le style tout en "souplesse froide" de son sujet. Plus que la ville, Mann sait apprécier pleinement les bâtiments, les appartements de luxe, les pièces contemporaines. De ce point de vue, Manhunter est un mélange du beau Heat et du non moins beau Collateral. Sur des propositions très traditionnelles (le thriller et toute sa panoplie), Mann trouve son style, et ses décors dépeuplés, filmés dans des perspectives profondes et glaciales, sont parfaits.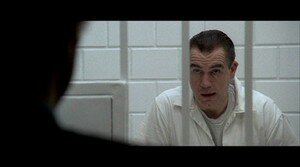 Autre talent de Mann : sa direction d'acteurs, là encore très réussie. Le héros, donc, qui a déjà la coupe de Tom Cruise dans Collateral, est joué très tristement par un "faux flic" barbu et solitaire. Son méchant fait sensation, un John Malkovitch en encore plus malade. Il est bien dessiné, sorte de monstre en mal d'amour auquel on s'attache très vite, grâce à quelques détails de scénario qui nous le rendent proche (très belle scène où le méchant emmène la femme qu'il aime caresser un tigre). La mise en scène est impressionnante dans son rythme (toute la scène finale, très lente, sèche, toute en profondeur de champs) et dans son montage. Voilà donc un nouvel "artisan" du cinéma américain qu'il faut suivre définitivement de près.
Gardons quand même la batte de côté pour le compositeur de la musique : Michel Rubini. Ce type est dangereux.