Si on se lançait dans le petit jeu hornbyesque des listes absurdes, je crois que White Heat aurait la palme du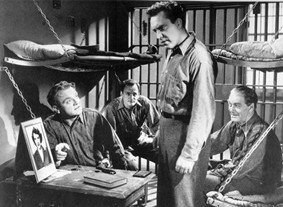 meilleur cri du cinéma mondial. C'est curieux comme la voix de James Cagney m'était restée dans l'oreille depuis mes 15 ans, quand j'avais vu ce bijou intersidéral pour la première fois. Quand il hurle à la fin "Made it, Ma ! Top of the world !", ça vous colle des frissons dans le dos, je vous jure (en passant, le deuxième cri, pour moi, serait celui de Connie Nielsen dans Mission to Mars). Mais de toute façon, Cagney est le plus grand acteur de tous les temps (avec tous ceux que j'ai cités avant) : ici, il défonce tout, défie tout éloge. Son gangster cruel, sans pitié, en même temps que fifils à sa môman et plein de migraines, est une création inoubliable. La fragilité et la force, le terreur et le ridicule, la douceur et la violence, tous les sentiments du monde animent ce petit corps déglingué, ces yeux sombres, et donc cette sublime voix nasillarde. Il tient le film en entier sur ses épaules, comme de rien.
La mise en scène de Walsh, extraordinairement fluide, rythmée, élégante, est à la hauteur de son acteur. Voilà un de ces artisans que j'adore, des types qui, sans aucune esbrouffe, sans souci de draguer les nanas avec une virtuosité fabriquée, racontent une histoire. Point barre. L'histoire de White Heat, bien que très classique, est complexe à souhait, avec 11823 rebondissements qui sont gérés par Walsh avec une tranquillité effarante. La scène de poursuite du camion-citerne, notamment, est un modèle : il monte 6 ou 7 cadres très rapidement, avec des fondus enchaînés d'une souplesse qui fait hurler, et on est dans tous les lieux en même temps, les actions simultanées se suivent parfaitement. Les mecs de 24 peuvent en prendre de la graine. En parlant de 24, je veux pas dire, mais là où il faut 43 satellites et 176443 agents à Jack Bauer pour arrêter un pauvre malfrat, il faut aux flics des années 40 un compas et un téléphone...
Le film va de sommets en sommets sans souffler une seconde. C'est haletant et plein de surprises, c'est poignant et émouvant. La perfection même...
Walsh et gros mythe : cliquez