Encore un chef d'oeuvre à mettre sur le compte de Bouddha, mais celui-ci arrive tout de même de domaines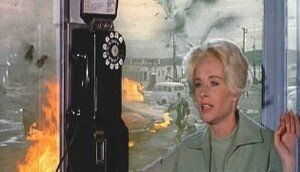 où on ne l'attendait pas. Pendant 50 minutes, Hitch brouille les pistes, et envoie d'énormes clins d'oeil aux spectateurs familiers de son oeuvre. D'où viendra le danger ? De la mère possessive (comme dans Psycho ou Notorious) ? Du mystérieux bonhomme élégant de l'ascenseur (comme dans North by Northwest) ? D'une activité cachée de l'amant (comme dans Suspicion) ? De la femme jalouse (comme dans Rebecca) ?
Cette première partie est bl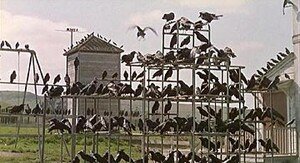 uffante, en ce qu'elle ne montre absolument rien des enjeux du film. Elle développe par contre à merveille la psychologie des personnages, notamment l'héroïne du truc, un des caractères les plus fouillés de l'oeuvre de Bouddha : Melanie Daniels est un mélange de sophistication (son manteau de fourrure est franchement décalé au milieu de cette minuscule ville portuaire), de gaminerie (ses mensonges récurrents, son béguin irraisonné), de maturité (la façon dont elle affronte le danger) et de rébellion (elle deffraie la chronique des faits divers). Les rapports qu'elle entretient avec son amant, avec la mère de celui-ci, avec l'institutrice, sont parfaitement dessinés, et surtout dialogués au petit poil. On se prend alors à deviner que le vrai sujet de Hitch ne se dirigera pas vers un fim à suspense, mais vers la résolution d'un problème intime...
Bingo : sitôt les premières attaques des oiseaux arrivées, le sujet s'épaissit. L'intense beauté de cette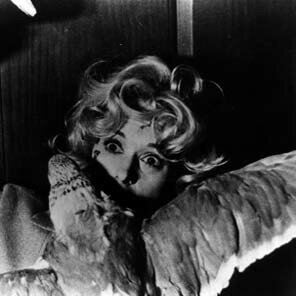 deuxième heure réside bien entendu avant tout dans la peur, dans les effets visuels parfaits, dans la constante invention de Hitch pour varier les situations, pour développer la terreur. Le film, tout en plongées et contre-plongées, en travellings aériens et en zooms fluides, est vraiment vu du point de vue des oiseaux, et c'est du pur génie que d'arriver à rendre crédible cette façon de filmer. L'absence totale de musique, remplacée par cette bande-son impressionnante de sauvagerie, et les intenses plages de silence striées soudainement de cris, suffiraient à elles seules à déclencher l'angoisse. Cette fois, le danger ne vient pas de la psychologie déviante, d'un complot politique quelconque ou d'un meurtre, mais il est purement irrationnel, inexpliqué. Le nihilisme de Bouddha explose enfin, marié de force, toutefois, avec un catholicisme terrorisé : l'apocalypse, la fin du monde, l'impossibilité d'échapper à la mort, s'ils sont des thèmes récurrents de l'ère atomique, sont aussi des thèmes bibliques. Les oiseaux sont un fléau, au sens catho du terme. La longue scène dans le bar à côté de la station-service, où chacun donne une explication à la folie des oiseaux (politique, religieuse, scientifique, morale...) est le point central du film : il n'y a pas d'explication, parce qu'il n'y a rien, pas de Dieu, pas de morale, pas d'innocence... C'est très puissant, très courageux, et ça donne un des plus beaux plans du cinéma : le dernier du film, écran empli totalement d'oiseaux de toutes sortes, avec la dernière cellule humaine qui quitte le champ.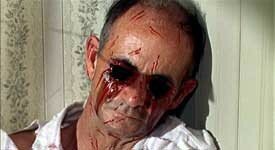 Mais là où la première partie du film est totalement justifiée par la seconde, c'est qu'on se rend compte que le vrai sujet d'Hitch, comme souvent, est : la famille. Peut-être bien, après tout que les attaques des oiseaux ne servent qu'à recréer une cellule familiale détruite. C'est le sens, à mon avis, des derniers plans : une famille complète, constituée de lambeaux de familles dispersées, qui se rassemble dans un monde vide de sens. Sitôt cet ordre social reconstitué, Hitch ferme son film, il n'y a plus besoin d'explication. The Birds devient alors encore plus puissant que son sujet a priori scientifique ne le faisait attendre : il devient un film sur l'amour, sur la solitude et sur la redécouverte des sentiments. Hitch livre le monde aux bêtes, en sauvant uniquement ce qui mérite de l'être : un couple, une vieille femme, une petite fille. Enorme.
Il y aurait 11000 choses à dire encore sur ce bijou (notamment, je n'y résiste pas, la porte transparente de la fin, comprenne qui pourra). Ce sera pour ma prochaine vision. (Gols 17/07/08)
---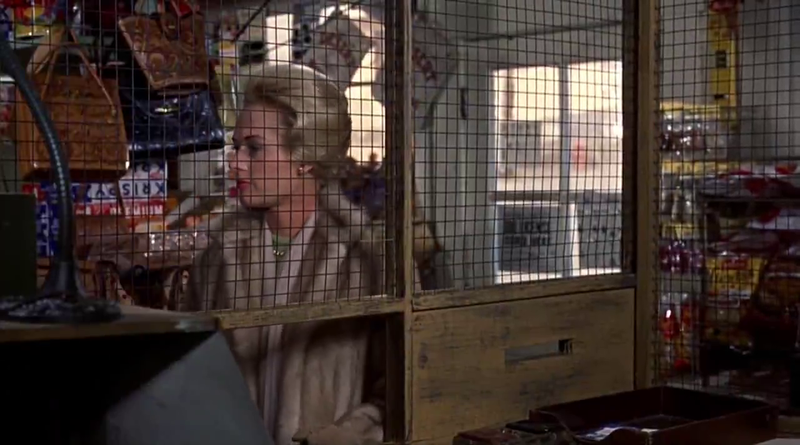 Ce film, que dire, est juste admirable, et Tippi Hedren une des plus belles héroïnes hitchcockiennes (rien que pour sa voix, je me damnerais). Bon, puisque tout le monde y va de sa petite théorie sur la chose (Bouddha ouvre l'esprit et les interprétations), je vais balancer la mienne (qui n'a peut-être absolument rien d'original, d'ailleurs). The Birds (attention, accrochez-vous aux branches) est l'histoire de personnages qui vont devoir, de force ou de gré, sortir de leur cage, de leur prison mentale. Tout tourne dès le départ autour de cette idée de cage (les petits zoiseaux dans l'oisellerie), d'enfermement (la vitrine cassée qui sera le point de rencontre entre Tippi et Rod) et d'éventuelle libération (le petit oiseau qui sort à la première occasion venue de sa cage). Si on veut, abruptement, donner les grandes lignes de cette idée, on notera que la chtite Tippi, enfermée dans cette image de jeune fille frivole, veut enfin voler de ses propres ailes en devenant un peu plus responsable et en se casant (au revoir la protection du pater et le trauma originel de la mère), que Rod cherche peut-être enfin à se détacher de cette porte de prison qu'est sa mère (s'ouvrir alors à Tippi et cesser de vivre dans la perpétuelle comparaison avec son père en s'opposant enfin à sa mère), que cette mère doit se sortir de son schéma mental sclérosant (voir son fils se lier avec une autre femme, à ses yeux, c'est le perdre ; elle se rendra compte, en acceptant Tippi, qu'elle a non seulement pas perdu Rod mais qu'elle a aussi gagné une belle-fille - sur laquelle elle peut tout autant épancher son affection) ou encore que la petite sœur doit également apprendre à ouvrir la cage dorée de l'école pour devenir autonome (la scène terrible à la sortie de l'école, justement, puis la perte de sa maîtresse : en terme d'apprentissage, ce sera peut-être finalement elle qui morfle le plus). De nombreux autres personnages sont comme "enfermés" dans leur conviction (la spécialiste des oiseaux, notamment, et ses théories à la con : elle en sera pour ses frais), des êtres qui vont devoir changer de comportement, s'ouvrir aux autres, pour accepter enfin la réalité et pour survivre. Sortir de sa cage, se libérer spirituellement et psychologiquement : la séquence (citée en fin de chronique par mon camarade qui m'initia d'ailleurs à la chose) de cette fameuse "porte imaginaire" à la fin du film (un simple jeu sur le son et sur la lumière et Hitch nous fit croire qu'il y avait une porte - cette porte, elle n'est que mentale, of course) constitue tout un symbole dans ce film où il est question de se battre contre ses propres démons, d'abattre soi-même ses propres cloisons. Après, c'est vrai qu'il y a des petits zoziaux très en colère.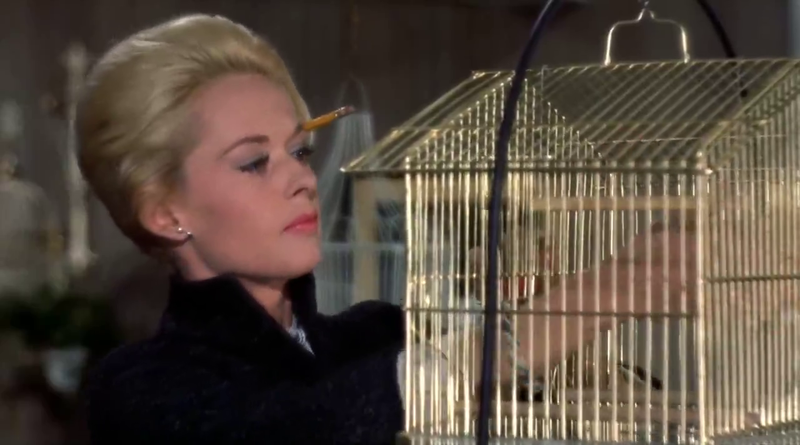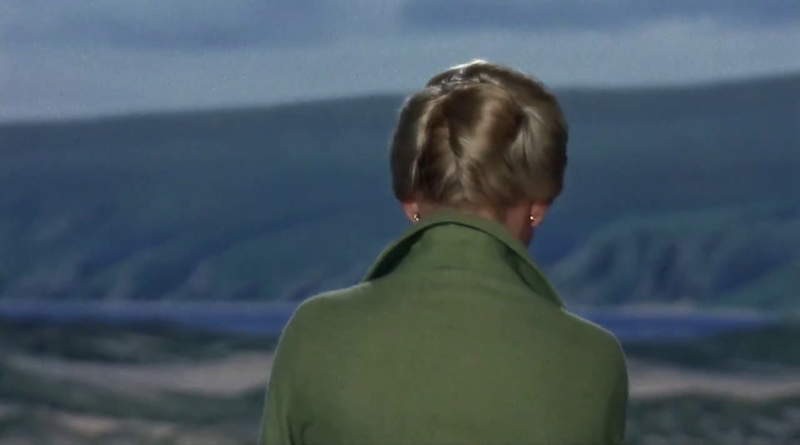 Revanche de la nature sur l'homme (ces corbeaux avec leurs petits airs de juge) - interprétation gretathunbergienne qui peut se tenir : on va droit vers l'Apocalypse si on continue ainsi -, terrible connerie de l'humanité qui, dès qu'il y a le moindre problème, cherche un bouc-émissaire plutôt que de réfléchir sur soi (la femme dans le bar qui accuse Tippi d'être "responsable" de ce cataclysme - un petit relent des horreurs de la Shoah, sujet cher à Hitch), (…) on peut prendre les interprétations les unes après les autres et l'on finira par convenir qu'en effet, il y a "ça" dans Birds. On peut aussi quitter le territoire du sens et, comme mon camarade en début de chronique, être totalement sous le charme de la mise en scène d'une fluidité de dingue (cela fait douze fois au moins que je revoie cette œuvre aérienne et les deux heures passent comme un souffle - l'approche de Tippi de la maison de Rod, avec ce plan sur elle alterné avec un plan en caméra subjective sur la maison, c'est d'une splendeur, d'une légèreté, d'un suspense étourdissant). Tippi et son manteau vert tel un inséparable (elle tombe dans les bras de Rod et la messe est dite : la fulgurance, once again, des coups de foudre chez Hitch), la sœur de Rod avec son tricot en forme d'épi de maïs qui se fait phagocyter par le manteau protecteur de Tippi, la connerie inhérente des flics (cela confirme les derniers « commentaires » dans la colonne de droite, tous pertinents sur le thème) qui sont incapables de faire avancer l'enquête (bon, faut dire, pour la défense de ce péquenaud local, qu'elle n'est pas évidente, celle-ci, à résoudre), tout semble réglé aux petits oignons pour faire pépier de joie le spectateur. Un des cinq (ou dix) chefs-d'oeuvre ultimes du master. (Shang - 27/01/20)
sommaire hitchcockien complet : clique avec ton doigt