Bon, ça va, on a déjà tout dit sur ce chef-d'oeuvre intersidéral, un
des plus grands spectacles de tous les temps, peut-être le film le plus célèbre de Bouddha. Je ne vais donc pas vous faire le coup de m'extasier devant la scène de l'avion ou du Mont Rushmore, devant le dernier plan coquin ou la blondeur d'Eva Marie-Saint, débrouillez-vous avec Google, ou en cliquant ci-contre sur le blog du Docteur Devo, qui a une théorie frisant la schyzophrénie sur les champs/contre-champs dans le film.
Mais, après avoir vu le film une bonne quinzaine de fois, une chose m'a interrogé aujourd'hui. Je me demande s'il n'y aurait pas là-dedans quelque chose à chercher du côté de la métaphysique, voire de la spiritualité. Toutes ces plongées insistantes sur les paysages urbains ou sur les personnages ; le nom de l'h
éroïne (Eve) ; le côté "anonyme" du personnage de Cary Grant, qui porte même au milieu de son nom le "zéro" du type qui n'existe pas (il le dit lui-même dans le dialogue : elle lui demande ce que veut dire le O de Roger O. Thornhill et il répond "Nothing") ; ces curieuses insistances sur les lignes droites, véritable obsession du film ; ces splendides fondus enchaînés qui font rentrer dans la tête des personnages des figures géométriques ; l'abstraction totale de la scène finale ; le côté imparable du scénario, qui emmène ses personnages dans la spirale du destin... Tout ça, je sais pas, ça me titille. Et il y aurait la présence de Dieu là-dedans que ça m'étonnerait pas (je ne sais pas trop où, hein, c'est juste une question). Et de la fatalité, et du "sens du c
osmos" comme dirait Miller.
A part ça, que dire ? Où trouver un seul défaut là-dedans ? Qui osera lever la moindre réserve ? Musique sublime, acteurs au-delà de toute éloge, personnages troubles à souhait (Mason est LE plus grand méchant de Bouddha, Martin Landau est le plus bel homo du cinéma), photo mirifique, scénario imparable (le meilleur de Bouddha ?), mise en scène éblouissante, bref c'est l'habitude dans les Hitch des années 50-60, et tout ce qu'on peut dire de mieux sur ce film est vrai. L'inconvénient avec les films trop connus, c'est qu'on ne peut rien en dire de nouveau. Bon, North by Northwest est LE film. (Gols 29/05/06)
---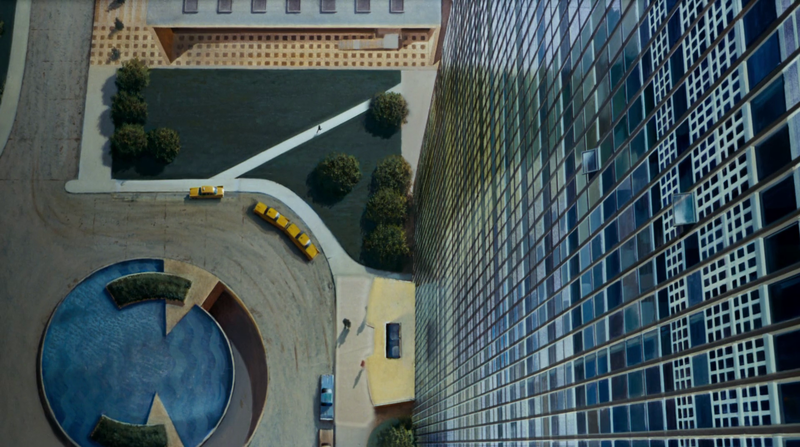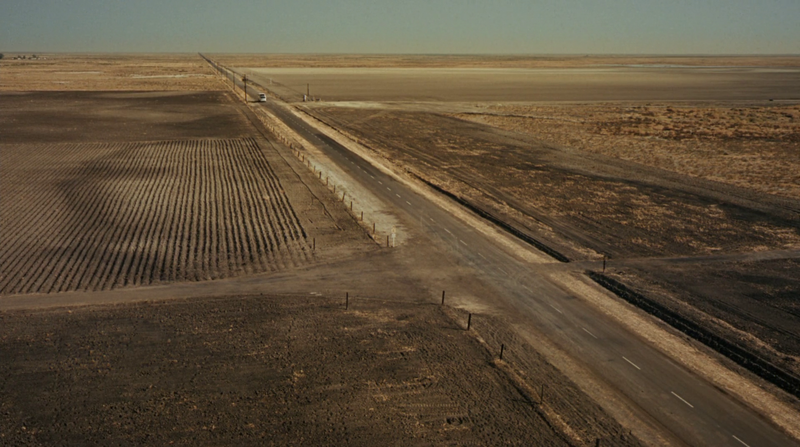 On est dans la perfection absolue et je plussoie à l'analyse de mon camarade, même sur ses théories les plus « hasardeuses » (les photogrammes que j'avais choisi à l'avance corroborent d'ailleurs parfaitement cette notion de "regard divin" tant l'art des plongées dans cette œuvre est grandiose). En effet tout a été dit sur ce film et l'on ne peut que tenter d'insister plus ou moins sur un aspect de la chose. Si Eva Marie Saint est la femme fatale la plus terriblement soft of the world (genre de mante religieuse aux allures de nonne), Cary Grant est comme à son habitude absolument prodigieux. Beaucoup aimé pour ma part l'insistance sur le fait qu'il "se doit de tenir un rôle", celui d'agent secret : il ne cesse de dire ici et là que ce n'est pas sa profession (il est publiciste bordel - bref, quelqu'un qui sait simplement vendre des choses...) mais toujours avec un petit rictus au coin des lèvres comme pour souligner le côté paradoxal de la chose – lui, un acteur né ? Non... Il est comme toujours aussi bon dans les scènes d'action, les séquences sentimentales et surtout dans les scènes comiques dont le film est truffé (la vente aux enchères la plus drôle du monde). Bien aimé également le plan sur son "passage à la télé" (vers la toute fin du film) qui va le perdre (son reflet est perçu par la gardienne des lieux) - on ne m'enlèvera pas de l'idée que le père Hitch a choisi délibérément un écran de télé plutôt qu'un miroir. Il est aussi beaucoup question sur la fin de ce flingue qui tire à blanc, comme si Alfred se faisait un petit délire sur l'aspect toc, faux, des coups de feu au cinéma - tout n'est qu'illusion (mais quelle illusion ici !).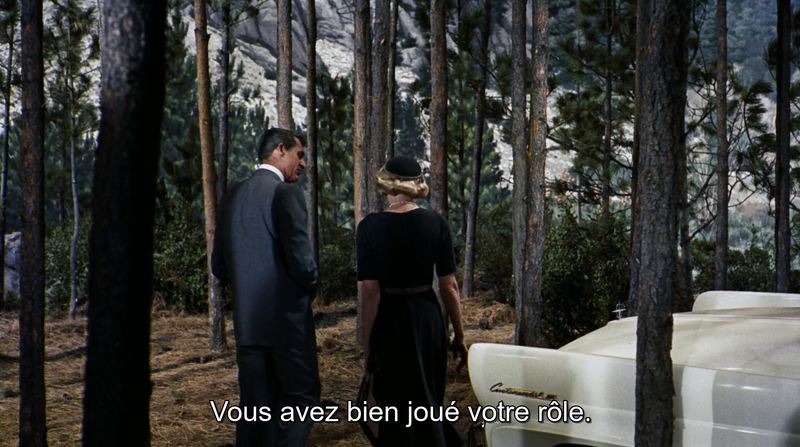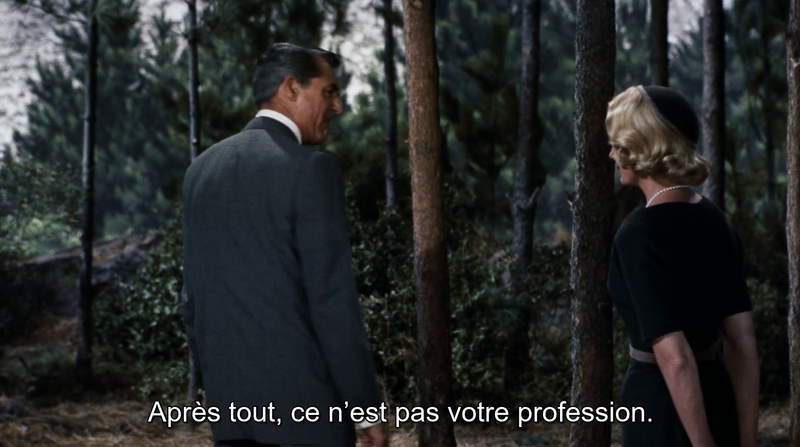 Bonheur également de se refaire la BO d'Herrman, les deux principales mélodies (dans les scènes romantiques comme dans les séquences d'action) étant absolument parfaites - cette première course-poursuite en voiture est une des premières envolées du film qui enivrent littéralement le spectateur. Ce qui est absolument génial dans le scénario, c'est que tout part absolument de rien. Une mère à la con qui va jouer au bridge chez une amie qui n'a pas le téléphone, un groom qui se méprend sur un geste de Grant, un kidnapping sur un quiproquo absurde et boum, c'est parti pour l'histoire la plus trépidante sur un personnage qui n'existe pas... Un personnage de papier, illusoire, qui va déchaîner toute la mécanique du cinéma d'aventures en "perpétuel mouvement" : voiture, train, avion, train, train ; l'action ne s'arrête jamais et ose de constantes inventions improbables (l'avion qui s'écrase sur le camion d'essence en pleine cambrousse... Ne faut-il pas être pervers pour avoir une telle idée ?) pour produire des surprises, des imprévus, des rebondissements. Tout cela sur un ton aussi sérieux (on est en pleine guerre froide) que comique (Grant est dans les emmerdes jusqu'au cou mais trouve toujours la bonne petite réplique pour rire de la situation, pour s'en moquer, pour prendre du recul : il maîtrise toutes les ficelles de la chose). Un classique vu et revu (Gols qui me disait il y a peu qu'il le revoyait tous les quinze jours - je le soupçonne d'avoir minimisé la chose et de le revoir chaque semaine) toujours aussi captivant et sentimentalement fondant. Grant, Saint, Bouddha, la trinité absolue. (Shang - 01/09/19)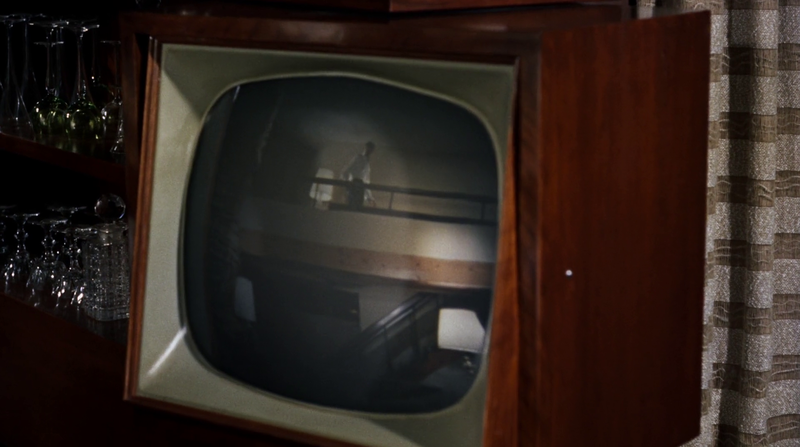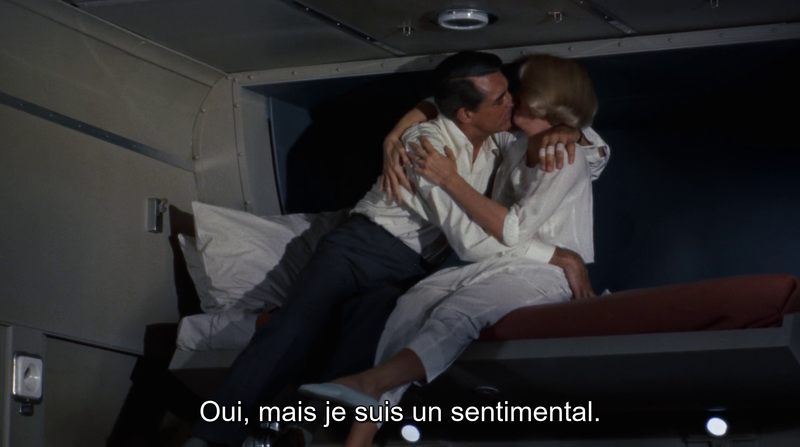 sommaire hitchcockien complet : clique avec ton doigt