Un petit Hitchcock pour célébrer le 100ème texte de ce blog indispensable, ça me semble s'imposer. Quand je dis "petit Hitchcock", je ne crois pas si bien dire, puisque The Trouble with Harry est un petit Hitchcock. Et comme tous les petites oeuvres des génies, il est plein de douceur, d'humour, de modestie et de minuscules trésors.
C'est une récréation, ça va de soi, et il ne viendrait à personne l'idée de le comparer avec les grands films de Bouddha. Et c'est justement dans ce sens qu'il est précieux. Pour une fois, Hitch s'essaye à la comédie pure (le seul essai précédent était Mr and Mrs Smith, raté et laborieux), et on ne peut que constater que c'est parfaitement réussi. Les acteurs sont formidables : Edmund Gwen, en personnage qui n'est pas sans rappeler le vantard minable de Juno and the Paycock, est drôle, dans un rôle assez courageux, et curieusement profond et émouvant sur la fin du film. John Forsythe est cynique à souhait, lui aussi courageusement, car son personnage est parfois assez déplaisant. Shirley Mac Laine est immense, comme toujours va-t-on me répliquer, mais là elle est LA femme-enfant parfaite, irresponsable, hors du monde, belle à croquer, attachante comme tout. Elle irradie tout simplement, une présence cinématographique que malheureusement peu de cinéastes ont su exploiter à sa juste mesure (dédicace à Billy Wilder).
Le film pourrait être détestable dans son cynisme affiché, dans cette manière de pousser à ses extrémités
l'humour anglais dans ce qu'il a de plus distingué, de plus sophistiqué, de plus élitiste. Mais curieusement, c'est comme ça que le tout fonctionne si bien, dans ces exagérations, ces impolitesses de môme. Ajoutons que Bouddha filme la campagne sublimement, et que ça fait plaisir de découvrir ces paysages sereins et colorés (j'adore les films de paysages réalisés en studio) montrés par un cinéaste qui a toujours vu la nature comme un lieu de violences (Champagne, Suspicion, Rebecca). Ajoutons itou que les dialogues sont franchement rigolos. Ajoutons aussi, quand même, que c'est la première musique de Bernard Hermann pour Hitch, et là les enfants, total respect, et même totale dévotion pour ces petits thèmes malicieux et simplissimes qui donnent le ton au film. Hermann est le plus grand génie du cinéma, avec Hitchcock, et quand les deux se rencontrent, on ne peut que se chopper une érection dantesque.
Bon Dieu, si toutes les récréations pouvaient être aussi fines et inspirées... (Gols 21/03/06)
---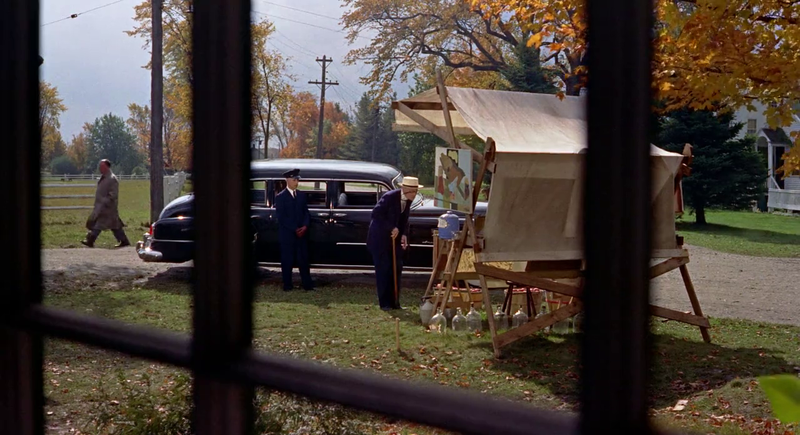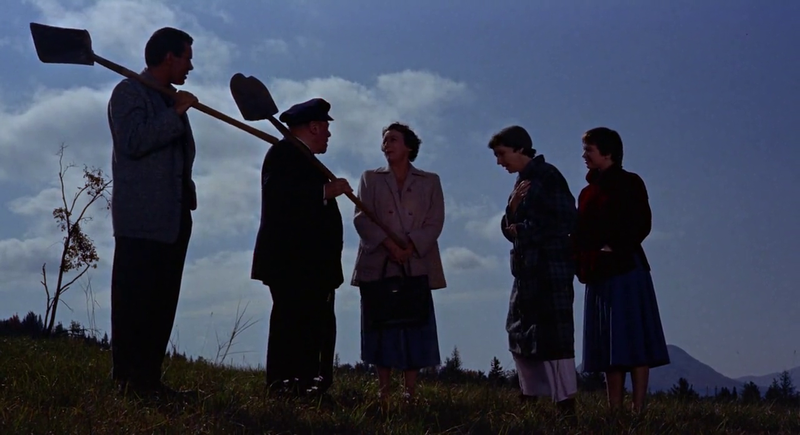 Mon comparse a souligné les points forts de la chose : j'avoue pour ma part avoir tout autant succombé à la beauté de ces paysages automnaux sirkiens qui donnent résolument un cachet au film. Oui, sinon, c'est quand même au niveau du "thriller comique" plus soigné que véritablement brillant. On a un peu le sentiment d'assister à du Hitch en chambre : tout le paquet est mis sur les situations vaudevillesques (un cadavre remplaçant l'amant du placard) et les dialogues teintés d'une pointe d'absurde et d'allusions sexuelles ; il faut dès le départ goûter à cet humour à froid très british (tout le monde, pour une fois, se réclame être le tueur – oui, c'est drôle) et à cette sympathique naïveté bon enfant dans laquelle baigne la chose - la mort n'a pas plus de sens ou d'importance qu'une tasse de thé : un cadavre qu'on enterre et déterre à tour de bras, un lapin raide mort qui sert d'objet de troc, la mort ? Rien de bien sérieux madame. Et comme la police est une nouvelle fois la dernière avertie et guère opérante, on aurait bien tort de se faire du mauvais sang pour un cadavre en plus ou en moins.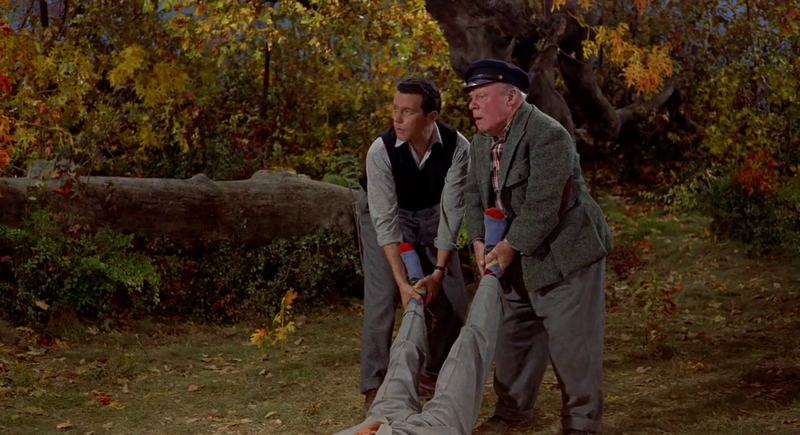 Alors oui, ce petit couple Mac Laine-Gwen est bien mignon (a love at first sight, ce qui semble totalement improbable dans ce village de six âmes où tout le monde se croisent quotidiennement aussi bien à l'épicerie qu'en pleine campagne...), le couple plus vieux qui lui fait pendant est également bien croquignolet et cette solidarité générale part d'un bon principe... Lorsque Gwen vend enfin tous ses tableaux à un millionnaire, il ne demande point d'argent mais un cadeau pour tous - on s'attendrait presque à voir Hitch apparaître suivi de quatre Teletubbies... Autrement dit, si on est un peu plus dur, le texte est bien récité, le fond de la scène est chatoyant mais le suspense et l'atmosphère sont aussi tendus que dans l'enfer des Bisounours. Seul Herrman, c'est vrai, semble mettre la main à la pâte, pour amener à la chose une coloration musicale trépidante (on reconnaît d'ailleurs la patte du maître deux secondes après le commencement du générique). Tout cela reste une œuvre récréative un peu lisse, avec une forme finalement plus passionnante que le fond (plus léger que de la gelée british). Très gentillette et oxygénante oeuvre d'Alfred, un peu comme une marche à la campagne un dimanche aprèm entre deux éclaircies... (Shang 21/06/20)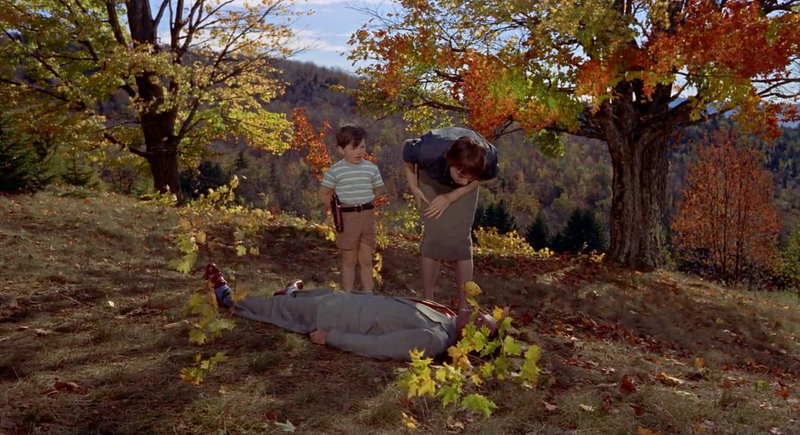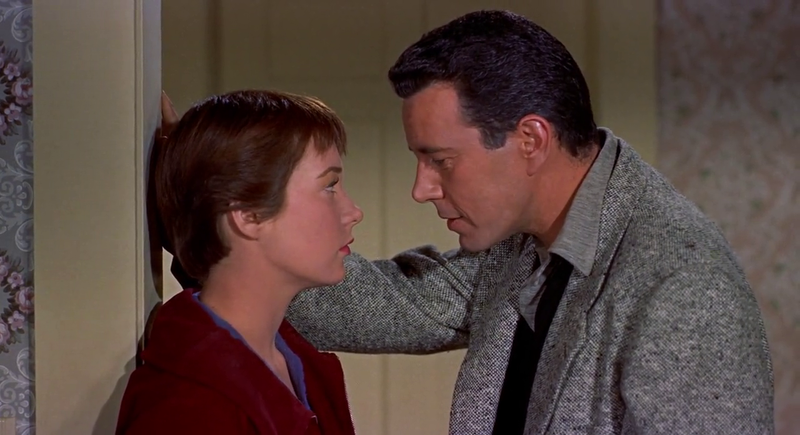 sommaire hitchcockien complet : clique avec ton doigt