Il n'y a pas d'humour dans I Confess. Il n'y en a pas non plus dans d'autres Hitch, comme Vertigo, Rebecca ou Psycho. Certes. Mais il y a beaucoup d'idées dans Vertigo, Rebecca ou Psycho. Et il n'y a pas d'idées dans I Confess... ou très peu. Ce film est très plombé, très frileux, comme terrifié par son sujet, avec des pudeurs de jeune fille, des retraits très étranges de la part de THE cinéaste qui se dévoile à travers ses films.
Pour autant, c'est un film intéressant, justement parce qu'il est unique dans la carrière de Bouddha, et justement par ses ratages et ses peurs de gamin. Ce mysticisme bizarre, qui aurait mieux trouvé sa place chez un Scorsese, prend ici la forme d'une crainte totale de Dieu et de la solennité de l'Eglise (le lieu et l'institution). Il y a quelques plans sur le coupable qui est confronté à des images religieuses (croix, autels, crucifix) que n'aurait pas renié Ferrara. Mais du coup Hitch n'ose pas l'irrévérence : l'acte le plus extrème de Monty Clift (le curé) est de traverser en-dehors des clous. L'arrogance habituelle du gars est ici comme ripolinée (un des thèmes du film est d'ailleurs la dissimulation : on repeint les murs de l'église, on change des fleurs fanées à tour de bras...). En atteste ce flash-back ridicule, qu'on croirait sorti de Wizard of Oz, tout en flous mièvres, en musique sirupeuse et en regards énamourés (Anne Baxter est nulle).
Bon, reconnaissons deux passages géniaux : l'ouverture du film, ombres magnifiques, réflexion en quelques
plans sur la direction du regard, musique inspirée (ce me semble) par Beethoven... Et le "chemin de croix" de Monty Clift, qui passe par toutes les étapes classiques du Christ. Et on comprend alors soudainement ce qu'a voulu faire Hitch : une variation sur le sacrifice, et donc sur la vie du Christ. Dommage qu'il ne tienne pas ça tout du long, et que le film souffre d'une surcharge de dialogues, d'un moralisme assez gênant, et d'une prise au sérieux inhabituelle chez l'auteur de The Trouble with Harry et Family Plot (qui, en passant, est drôle).
En fait, il faut croire que Bouddha craint non seulement l'institution policière (il raconte souvent l'anecdote de sa nuit au commissariat durant son enfance, lisez Hitchcock-Truffaut, merde !), mais aussi l'institution religieuse. C'est toujours merveilleux de sentir que derrière le brio d'un film, il y a un homme, un caractère qui s'exprime, et un enfant... (Gols 05/03/06)
---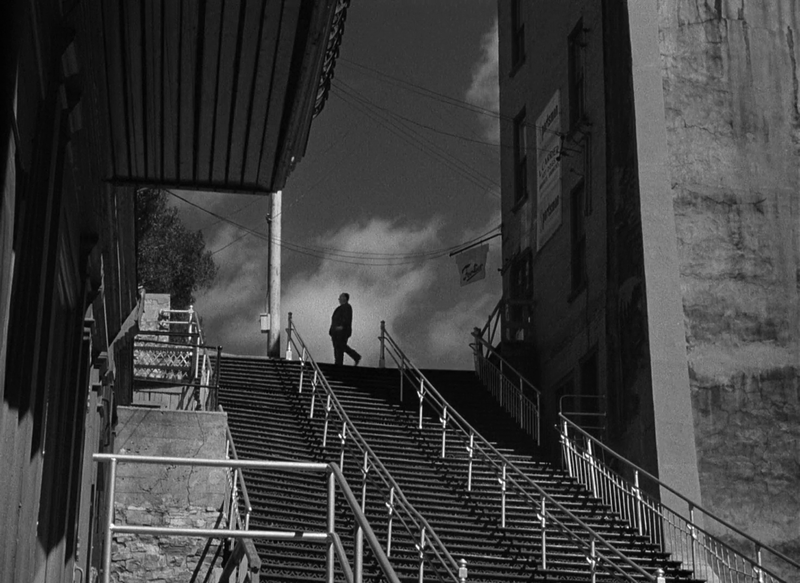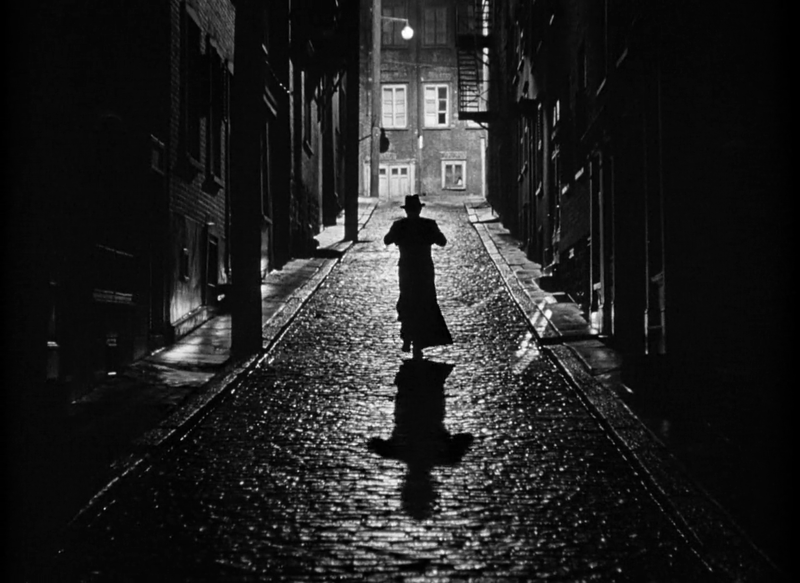 Ah oui, plutôt d'accord avec l'avis du Gols sur ce Hitch qu'on sent un peu coincé dans son chapelet... Après, en effet, une très belle scène d'ouverture digne de tout bon film noir qui se respecte (ce signe "direction" qui nous mène inéluctablement au cadavre, ces rues mouillées nocturnes, ce jeu sur les ombres, la présence en prime de la silhouette de Hitch, la musique ronflante de Tiomkin - ah ces Russes, si bons pour traduire mélodieusement la chenille des chars...), on se retrouve vite enfermé dans ce presbytère, ou dans ce commissariat, ou dans cette salle de tribunal..., comme si l'espace se devait d'être restreint, cloisonné, pour s'y sentir en un sens comme cloîtré. Seuls les flash-back donneront un peu d'air à cette histoire sérieuse comme un pape, une embrassade au ralenti qui est sans doute ce qu'Alfred a fait de pire dans la mise en scène du romantisme niais et puis une autre, à la campagne, mettant également en scène notre couple phare, sous une pluie battante : une séquence, dirons-nous, un peu plus enivrante et lyrique... Mais bon, toute proportion gardée, of course, Clift, le si beau Clift, restant aussi expressif qu'une falaise, et Baxter aussi sexy qu'un âne - on aurait pu être avec Montgomery dans le glamour, on demeure plutôt dans le marbre... Une fois n'est pas coutume, les flics sont vraiment omniprésents, mais, et de cela on est au contraire assez coutumier, sans aucun instinct ni feeling : Karl Malden, bien qu'il en ait, de la truffe (il aurait pu faire un nez de fer avec Gabin), bien qu'il se croie diablement malin, fait chier son monde, écoute patiemment tous les ragots des uns et des autres, mais ne fait progresser en rien l'enquête - bête comme chou.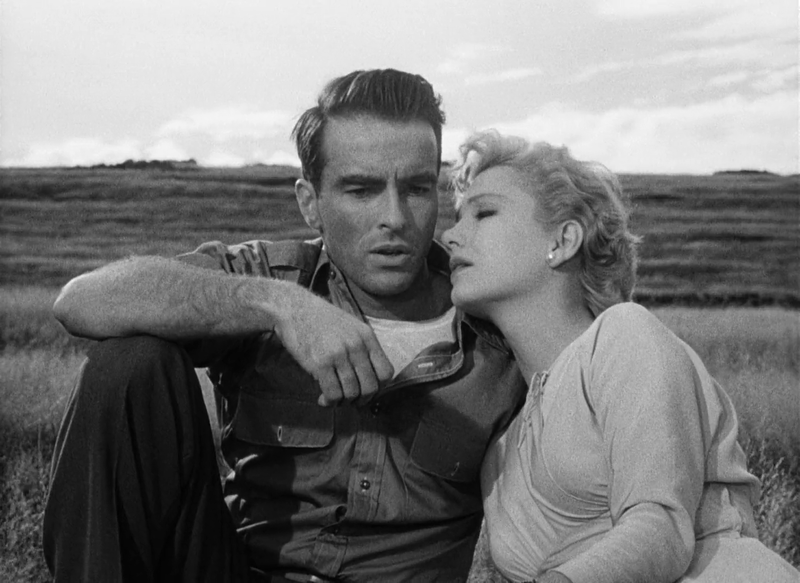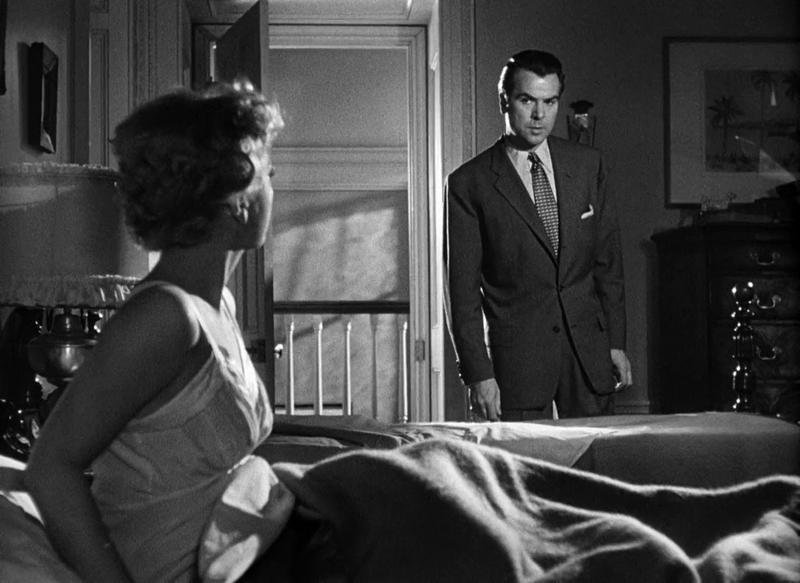 Le gros morceau, difficile en effet de passer à côté, est ce chemin de croix dans la ville du gars Clift : il erre, doute, est même tenté de se fondre dans la foule ; Hitch multiplie de façon un peu grossière les références au Christ mais ce chemin le mènera finalement tout droit au commissariat. Notre homme souffre, a souffert (se refusant à dénoncer le coupable qu'il connaît, il doit endosser le rôle de l'accusé ; mais le plus dur pour lui, sans aucun doute, fut de voir cette chère Anne se confesser aux flics sur leur histoire d'amour...) mais ne rompt point. Du coup, c'est vrai, il faudra un petit coup de théâtre (petite mise en scène qui ne mange pas de pain) pour dérider (et résoudre) cette bien triste histoire de faux coupable ; mais là encore, comme si Hitch se devait jusqu'au bout de rester dans sa robe de bure, la morale ne sera jamais vraiment atteinte, tout rentrant dans l'ordre, pour ne pas dire, blague, dans les ordres. Un Hitch cousu de gros fil de corde, bénéficiant heureusement sur quelques séquences d'un montage solide mais guère fun dans son atmosphère, dans ses dialogues, dans son romantisme. Houtch. (Shang - 15/03/22)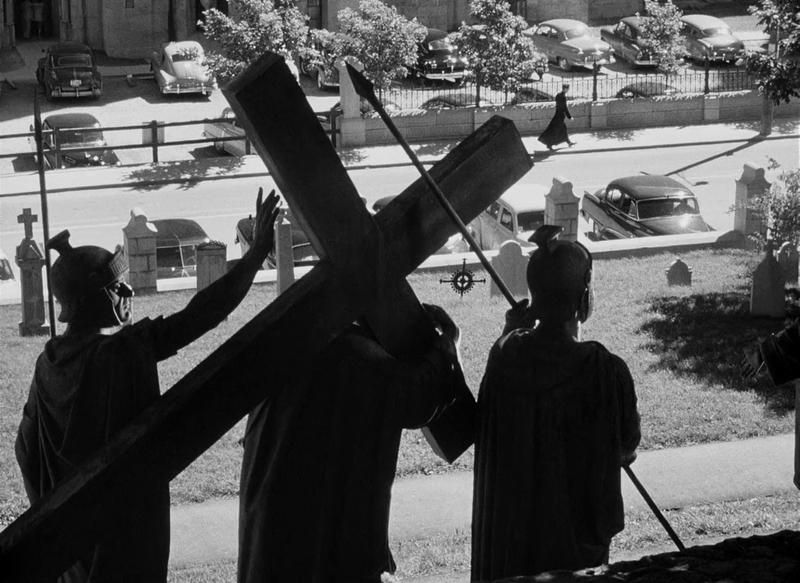 sommaire hitchcockien complet : clique avec ton doigt